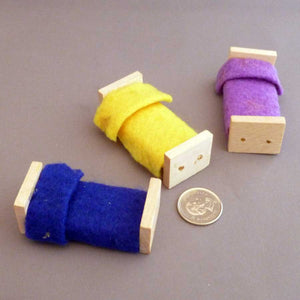 New objects
Well, we've had an amazingly busy and productive spring! We followed the AMS conference in Chicago in March with appearances at workshops in Cincinnati in April and Toronto in May. We met so many of the people we've talked to on the phone and by email, and made so many new contacts, that we've been working very hard.
And the input from Montessori teachers and administrators at these get-togethers was energizing, with lots of ideas and suggestions for new materials (many in development now) and sourcing of new objects.
Among the new items that we've added to our selection of phonetic, non-phonetic and phonogram objects are bed, sun, cupcake, igloo, pie, rune, puzzle, to name a few - that you, our customers, asked for when we got coveted face-to-face time with you.
Remember, if you have a request for objects that DON'T appear on our website, don't hesitate to send us an email or call. We will make our best efforts to get them for you.
---